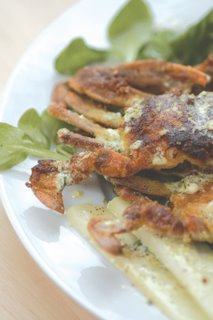 Breaded soft-shell crabs are delicious and wonderful served over greens, tucked in a sandwich, or chopped up over a bowl of pasta—the texture and flavor of the crispy crab compliments just about anything. This recipe can be prepared with the top shell removed or intact, either or; it's just a matter of preference.
This recipe for breaded soft-shell crab was one of my Grandmother Edna's favorite. She would indulge and fry her soft-shell crabs in butter, though here I use olive oil.
When I was a kid, in the Spring when the moon was full, we used collect our flashlights and head down to the pier. We'd suspend ourselves precariously over the dock and dangle a long net into the water and scoop up the soft-shell crabs that were hanging onto the pylons. Every once in a while one of my cousins would fall in filling the evening with laughs, good stories, and eventually when we headed back to the house tasty soft-shell crabs.
Edna's Breaded Soft-Shell Crabs with Thousand Island Dressing
Makes 4 servings
For the Crabs:
8 CrabPlace.com Hotel soft-shell crabs, with the top shell removed (see below for instructions) or intact, your choice
(click here to purchase soft-shell crabs)
1 cup milk
1 cup cornmeal
1 cup bread crumbs
1 teaspoon salt
¼ cup olive oil for frying Handful of greens
For the Thousand Island Dressing:
½ cup mayonnaise
2 tablespoons ketchup
1 tablespoon pickle relish juice
In a large metal bowl, combine the crabs and milk, cover with plastic wrap, and marinate for 15 minutes at room temperature.
Place the cornmeal and bread crumbs in a shallow bowl and mix and then set aside.
In a skillet large enough to hold 4 crabs, add in the oil and place it over medium-high heat.
Remove the crabs from the marinade, shake off the excess liquid, and transfer them to the bowl of cornmeal and bread crumbs. One at a time, coat both sides of the crab with the mixture. Place the crabs into the hot skillet and sprinkle them with salt. Sauté the crabs for about 4 to 5 minutes per side, or until slightly crispy.
Meanwhile, prepare the Thousand Island Dressing. In a medium bowl, combine the mayonnaise, ketchup, and pickle juice. Whisk together until well combined and smooth.
To serve, place the soft-shell crabs on a plate with a handful of greens and drizzle everything generously with the dressing. Serve immediately.
To prepare this recipe with the top shell removed:
insert your fingers or the knife and unfold the crab's apron, located in the middle of the crab's body. Pull it back away from the body, while also pulling and lifting up the top shell. Pull it off and discard.