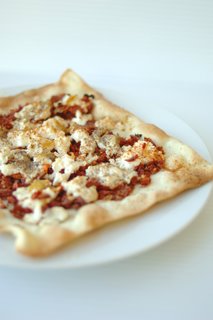 Crabmeat Thin Crust Pizza is delicious hot or cold and perfect folded over like a sandwich and eaten with your hands. I first started making crabmeat pizza several years ago. I had a family party to plan and wanted a meal that was going to be casual, fun, and delicious. Everyone loves pizza in my family (think large Sicilian family), so I set out to find a way to make this dish my own. And what better way than to convert this typical Italian American recipe to include my favorite ingredient: Maryland Blue Crab! The results were better than expected, in a mere 30 minutes, all the pizza had been devoured. I had to scramble back to the kitchen to whip up more crabmeat pizza but it's ok, when it comes to sharing my passion for everything blue crab, I am more than willing. And the best accolades came from my Sicilian grandmother Josey when she pulled me aside and patted my arm. I got a nod from her and knew that I had a hit.
Crab Marinara Pizza
Makes 4 servings
For the Pizza:
1 tablespoon flour, if necessary when rolling out the pizza dough
1 store-bought Pizza Dough (for an 12-inch pizza)
olive oil spray
16 ounces CrabPlace.com Crab marinara sauce
(click here to purchase)
Optional: a handful sundried tomatoes, finely chopped
For the Toppings:
½ pound fresh backfin crabmeat, picked through for shells
(click here to purchase)
½ cup softened cream cheese
16 ounces shredded mozzarella cheese
1 teaspoon roasted minced garlic (store-bought)
Place the oven rack on the lowest shelf of the oven and heat the oven to 450° F. for at least 15 minutes.
On floured surface, turn out the pizza dough. Begin rolling out the dough with a floured wooden rolling pin to form a 12-inch circle or square no thicker than ¼ inch. The crust should be very thin. Lightly spray the pizza pan with the olive oil spray. Transfer the rolled-out dough onto a pizza pan. Swirl the marinara sauce around the center of the pizza, leaving a ½-inch bare ring around the outside. Sprinkle the sauce with the optional sundried tomatoes. Lightly spray the exposed crust with olive oil. Set aside.
Prepare the toppings. In a medium bowl combine the crabmeat, cream cheese, mozzarella, and roasted garlic and mix until well blended.
Cover the pizza with the cheese mixture, dropping little clumps over the sauce.
Carefully place the pizza in the oven and bake for 12 minutes, or until the cheese has melted and the crust is cooked and golden brown. Depending on your oven, this cooking time may vary. When the pizza is done, remove it from the oven and serve immediately.