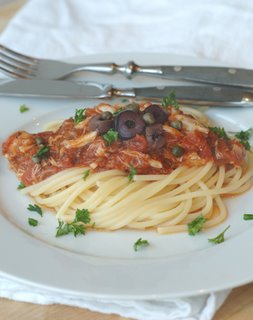 I love puttanesca sauce. It's got a little bite to it and blendes wonderfully with pasta. Now add some fresh Maryland crabmeat into the mix, and you are really on to creating something special.
And don't stop there!
Let crabmeat reinvent your favorite dishes. Maryland crabmeat is healthy, delicious, and, all-American! Crabmeat turns your favorite dishes into something tasty and spectacular.
And this is also a great way to introduce crabmeat to friends and family. It works for me. I ask my guest what their favorite dish is and then prepare it with crabmeat incorporated (and make sure you tell them so they aren't too surprised!) The outcome is always seconds, and sometimes, even thirds...
Crab Puttanesca
Makes 4 Servings
1 pinch salt (for the pasta water)
¾ pounds spaghetti pasta
1½ tablespoon minced roasted garlic
1 tablespoon capers, drained
1½ tablespoons black olive paste
1½ teaspoon Anchovies paste
28 ounces canned whole tomatoes and the liquid, should be broken up with your hands
to be manageable bite size pieces
1 pound backfin crabmeat
optional: ½ teaspoon crusted red pepper flakes
6 roughly chopped kalamata olives
2 tablespoons parsley leaves, finely chopped. Use as garnish
Fill a large pasta pot with cold water (about ¾ of the way full) and place the pot over high heat. When the water comes to a boil, add the salt and pasta, pushing it under the water as it softens. Stir the pasta to ensure it does not stick, and follow the packaging instructions for cooking time; spaghetti usually takes about 7 to 10 minutes. When the pasta is finished cooking, drain it well and set it aside.
Meanwhile prepare the Puttanesca sauce. In a large sauce pot over medium low heat, add in the garlic, capers, olive paste, anchovy paste, and sauté for 1 minutes or until you can start to smell the aroma of the ingredients. Add in the tomatoes. Reduce the heat to medium low and cook the sauce for 10 minutes, stirring occasionally to make sure the sauce does not stick. Toss in the crabmeat and cook for another 2 minutes.
Reduce the heat to low and add in the optional red pepper flakes. Gently mix everything together until it is well combined.
To serve, evenlly divide up the spaghetti among four plates. Transfer the Crab Puttanesca directly from the pot onto the pasta and sprinkle it with chopped olives and parsley leaves. Serve immediately.
Important Note:
if you like to add wine to your puttanesca sauce, by all means do. When I am feeling saucy, I do just that. I like inexpensive red italian table wine. Don't spend more than $10 a bottle and make sure the wine flavor is earthy, not sweet.