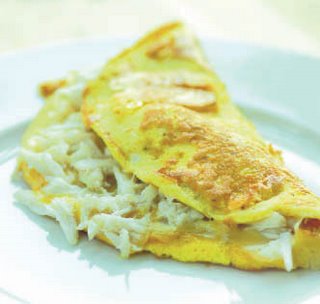 Crabmeat Omelets are a great way to start the day. This recipe is simple, but anything can be included along with the crabmeat just minutes before covering the pan to melt the cheese. Just be sure whatever you do decide to add is at room temperature.
This is also perfect tucked in-between two slices of bread for a crabmeat egg omelet sandwich! And there's probably enough to make two sandwiches, if you feel like sharing...
½ tablespoon veggie oil
2 large eggs, whisked in a small metal bowl until frothy
1 teaspoon salt
1 dash freshly ground black pepper
¼ cup shredded Monterey Jack cheese
½ cup
CrabPlace.com backfin crabmeat
Slick a small non-stick omelet pan with the oil and place it over medium heat. When the pan is hot, pour in the eggs, swirl the pan to create an even layer of eggs, and let them cook undisturbed for about 2 minutes. Add the salt, pepper, cheese, and crabmeat.
Cover the pan for about 1 minute to melt the cheese. With a rubber spatula, loosen the omelet from the pan and fold in half while sliding it from the pan directly onto a warm plate. Serve immediately. Yummy!