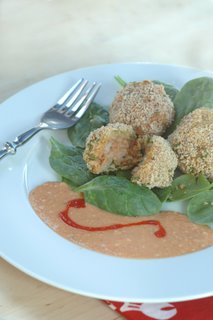 Croquettes can be created from your favorite ingredients and once you learn the technique, it's easy. I like to use a food processor to mix my croquettes; it saves a lot of hand chopping time. In this recipe, I use shrimp, but you could also try: scallops, tuna, salmon, rockfish, cooked lobster meat or even my favorite...crabmeat!
Croquettes can be assembled ahead of time and frozen. If you are baking from a frozen state simply add another minute or two until they are cooked through.
I suggest making a dipping sauce on the side. If you like hummus, that's a great place to start, but the sky is the limit here and so be playful in the kitchen. Other great options are a mixture of equal parts tartar sauce and cocktail sauce to create my favorite: sunset sauce.
Shrimp Croquettes
Makes 6 servings, 2 croquettes per serving
For the fried croquettes:
¾ pound fresh raw shrimp, shelled and deveined and roughly chopped
½ cup finely grated Parmesan cheese
1½ cups cooked white rice
2 teaspoons minced garlic
1 teaspoon salt
½ cup of your favorite finely chopped fresh herbs (I suggest: cilantro, flat leaf parsley, curly parsley chives, chervil)
2 eggs, whisked
2 cups olive oil
For the coating:
1½ cup breadcrumbs
1 tablespoon finely chopped fresh cilantro (or your favorite herb)
For the sauce:
¾ cup store-bought Hummus
1 tablespoon chili sauce
In a food processor combine the shrimp, cheese, cheese, rice, garlic, salt, cilantro, and eggs and pulse until a paste is formed. Scoop out the shrimp mixture and make 12 equal balls, or about 1 heaping tablespoon each.
In a small shallow bowl pour in the breadcrumbs and cilantro and mix.
Pour the olive oil in a medium sauce pan and heat it to 350F.
Meanwhile, dip the croquettes into the breadcrumbs (roll it around until it is well coated) and place them on a clean plate.
Fry the croquettes in batches in the olive oil for about 2 minutes or until they turn golden brown. The croquettes should be completely submerged. Also, make sure to carefully move them around in the oil so they fry evenly. When they are done, remove the croquettes from the oil and place them on a paper-towel lined plate to drain.
While the croquettes are frying prepare the Hummus dipping sauce by combing the hummus and the chili sauce and mixing until blended.
Serve the croquettes warm with the dipping sauce. If you really like it spicy, just adjust the sauce to taste.
Labels: crabmeat, fish, lobster, scallops, seafood croquettes, shrimp