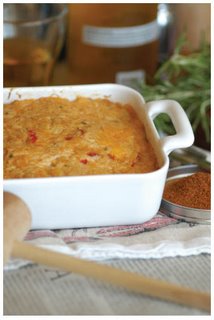 This crab dip is delicious for tailgating parties and can be warmed on the grill with a loose piece of foil tented over the top. It's even great served at room temperature.
Make sure not to overcook this dip, or the cheese may separate and burn. Since the crabmeat is already cooked, the dip needs to be baked only long enough to melt the cheese. Fold in the crabmeat at the last possible moment to avoid breaking it up too much. This dish may be prepared in advance, refrigerated, and baked just before serving.
Tailgating Supreme Crab Dip
Makes 6 servings
1½ cups shredded cheddar cheese
1 cup mayonnaise
2 tablespoons finely chopped pimientos
8 crushed no-salt saltine crackers
2 teaspoons seafood seasoning, such as Old Bay
2 tablespoons finely chopped parsley, optional
1 pound backfin crabmeat, picked over for shells and cartilage
(to purchase, click here)
20 crackers or freshly sliced country bread
Place an oven rack in the center of the oven and heat to 350 degrees. In a large bowl, combine the cheese, mayonnaise, pimientos, crackers, seafood seasoning, and parsley. Mix until well combined. Carefully fold in the crabmeat and gently mix just until the crab is coated. Spoon the mixture into a medium gratin or casserole dish and bake for 20 minutes, or until the cheese has melted. Serve immediately with a butter knife for spreading the dip on the toast points or sliced country bread.