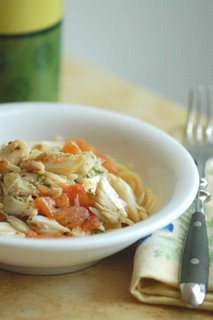 Adding little flecks of crabmeat can enhance just about anything, like pasta, rice, veggies. And if you only dole out a little bit at a time, it also helps stretch the crabmeat for multiple meals. How do you do this? When your crabmeat arrives, immediately open it up and divide it up into the portions you want and then freeze it in freezer ziplock bags. When it's time to make a meal, thaw out the crabmeat portions. Crabmeat is a great add to your favorite dishes: I like combining it with pasta, because it is inexpensive and very easy to cook.
Crabmeat and Pasta
Pasta
olive oil or butter
crabmeat
your favorite herbs and spices
Prepare the pasta according to the manufacturing instructions and then cook up the crabmeat in a little olive oil or butter in a saute pan with your favorite herbs and spices. Toss the prepared pasta and crabmeat together and you've got yourself a really delicious, easy, highly flavorful meal. The costs of the prepared dish is up to you depending how much crabmeat you want to use per portion.