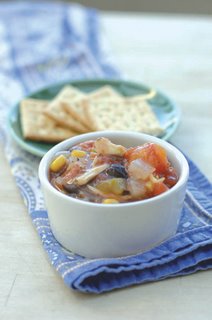 It's almost time again to call your friends over and get together around the TV to watch the NCAA basketball tournaments! And over the years I have found that the most popular dishes are the ones that are just simple and straightforward.
In fact, last year I made a huge bowl of salsa and add in a few handfuls of crabmeat, and it was a hit! And the best part was, I had everyone bring over one portion of the recipe (nachos, premade salsa, crabmeat, cheese, and so on) so we were all chipping in.
Crab Salsa
Nachos
Shredded Cheddar Cheese
Your favorite premade Salsa
Crabmeat
dash of hot sauce (if you like it spicy)
Sour Cream
Guacamole
Prepare the nachos.
Turn the oven on 350 F. Spread the nachos on a sheet pan and smoother them with shredded Cheddar cheese. Bake the nachos until the cheese melts, which should take just a few minutes.
Meanwhile in a large bowl prepare the salsa. Combine the salsa, as much crabmeat as you want, and a dash of hot sauce, if you like it spicy and mix. Technically you could also add canned corn, black beans, really whatever you want to dress up the salsa and make it your own.
When the nachos are ready transfer them to a nice platter and place the salsa out to serve...and watch your guests chow down on your creation!
Of course we also do sell our own crab salsa...so if that's the route you want to go, by all means!