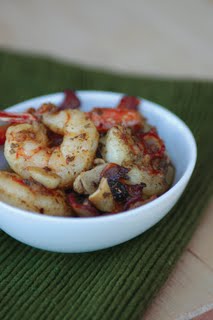 This bacon and shrimp dish is sheer delight and a great leftover, giving everything the chance to marinate and exchange flavors. It's perfect the morning after, tucked into an omelet. And if you are feeling adventurous, consider preparing this recipe with crabmeat, scallops, or lobster meat. It's spectacular stuffed into a halved baked potato. And if you are watching your waistband this holiday season, try this with lean turkey bacon and skip the butter altogether.
Sautéed Herbed-Bacon Shrimp
makes 4 servings
2 pounds large shrimp, shelled, deveined, and butterflied
2 garlic cloves, peeled and thinly sliced
1 teaspoon ground dried rosemary
1 teaspoon dried oregano
1 teaspoon kosher salt
1/8 teaspoon freshly ground black pepper
2 tablespoons olive oil
5 strips bacon, cut into ½-inch cubes
2 tablespoons unsalted butter
1 teaspoon freshly squeezed lemon juice
In a large bowl, combine the shrimp, garlic, rosemary, oregano, salt, pepper, and olive oil. Toss until the ingredients are well combined. Set aside at room
temperature to marinate for 20 minutes.
Meanwhile, in a large skillet over medium-low heat, cook the bacon until it begins to render its fat and starts to crisp, 8 to 10 minutes. Remove the bacon from the skillet, leaving the rendered fat behind. When the shrimp has finished marinating, turn the heat up to medium-high and begin sautéing the shrimp in batches of 10 or so, depending on the size of your skillet—don't overcrowd. Stir the shrimp constantly and cook for 3 to 4 minutes. Transfer the cooked shrimp to a large bowl and continue with the next batch.
When all the shrimp are done, lower the heat to medium and carefully add the butter and lemon juice to the skillet. Quickly deglaze the skillet, scraping up the browned bits with a wooden spoon. Pour the result over the shrimp and add the bacon, tossing until the bacon and shrimp are well combined.
Serve immediately.