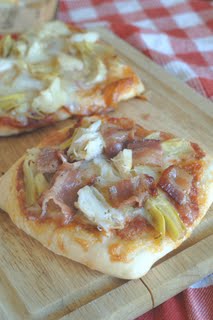 Tailgatin' Grilled Crab Pizza with Artichoke and Bacon is super easy to prepare and delicious hot or cold and perfect folded over like a sandwich and eaten with your hands. When grilling with crabmeat it's important to note that it can dry out very quickly: to prevent this from happening make sure to drizzle the crabmeat with a little of the artichoke marinade. Another fun option would be to add a little ricotta cheese to the crabmeat and lightly mix it before placing it on the pizza.
Tailagatin' Grilled Crab Pizza with Artichoke and Bacon
Makes 4 servings
For the Pizza:
1 tablespoon flour, if necessary when rolling out the pizza dough
1 store-bought Pizza Dough (for an 12-inch pizza)
olive oil spray
16 ounces CrabPlace.com Crab marinara sauce (or regular store-bought marinara)
For the Toppings:
16 ounces shredded mozzarella cheese
½ pound fresh backfin crabmeat, picked through for shells
Handful of marinated artichokes quarters, sliced thin; reserve a little of the marinade to drizzle on the crabmeat
3 pieces of your favorite bacon
If you are using a charcoal grill, prepare the fire for medium high heat. If you are using a gas grill, turn it on medium high heat. Place a pizza stone on the grates leaving a little space for the bacon to cook. Make sure the grates are well-seasoned.
Prepare the pizza. On floured surface, turn out the pizza dough. Begin rolling out the dough with a floured wooden rolling pin to form a 12-inch circle or four 4-inch squares no thicker than ¼ inch. The crust should be very thin. Lightly spray the pizza pan with the olive oil spray. Transfer the rolled-out dough onto a pizza pan. Swirl the marinara sauce around the center of the pizza, leaving a ½-inch bare ring around the outside. Lightly spray the exposed crust with olive oil.
Cover the pizza with the shredded cheese, crabmeat and artichoke slices. Make sure the crabmeat is covered with a little of the artichoke liquid to prevent drying out.
Carefully place the pizza on the pizza stone and lay the bacon directly on the grates. Cook the bacon for about 4 to 5 minutes per side until it is cooked and slightly crispy. When the bacon is done remove it from the grill and chop it up and place it directly into the pizza (even if it is still cooking).
Grill the pizza for 15 minutes, or until the cheese has melted and the crust is cooked and golden brown. Depending on your grill, this cooking time may vary. When the pizza is done, remove it from the grill and serve immediately.