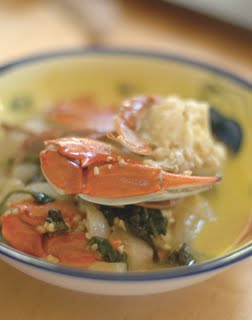 Garlic Crabs are perfect prepared with already steamed crabs. For a tangy, sharp flavor, use raw garlic, however if you like it mild use roasted garlic instead. This is a block party favorite: hot or cold, the crabs and juices maintain their wonderful flavor. At my grandmother Josey's shore shack, we even used cleaned soft-shell crabs. Yes, it's true they also work. In fact, what's nice is you can eat the entire crab vs picking through the shell. Also, serve with plenty of napkins and bibs...oh and a frosty beer.
Josey's Garlic Crabs
makes 6 servings
16 steamed blue crabs (or to make your life a heck of a lot easier, use soup crabs as the top shells are already removed)
½ cup olive oil
1 big garlic head, cloves removed from their skins
1 head cabbage, thinly sliced into ¼-inch slivers
1 cup dry white wine or water (please use the wine!)
2 heaping tablespoons Old Bay seasoning (or whatever Seasoning turns you on)
1 tablespoon kosher salt
½ pound unsalted butter
½ cup flat-leaf parsley, roughly chopped
1 loaf fresh bread
If you are using crabs with the shells on, prepare the crabs for garlic crabs. Place your hand over the backfin leg and pull away the top shell and discard it. Remove and discard the six gills, which look like spongy fingers, and then remove their entrails, using your fingers or a knife. Once clean, tear off the crab's mouth and any sharp shells that might be protruding.
Now regardless of what crab you are using, finally, break the crab in half or leave it whole (you decide). Repeat with the remaining crabs. When all the crabs are cleaned, place the crabs in the pot along with the cabbage, white wine, Old Bay seasoning, salt, butter, and parsley.
Cover the stockpot and place it on a burner. Raise the heat to medium and cook the crabs until the cabbage and garlic is tender or, about 15 minutes.
Occasionally check the level of liquid, which should increase as the crabs release their juices (but if this does not happen, just make sure there is enough water to continue to cook the crabs). Stir the pot well halfway through so all the crabs get a chance to cook directly in the liquid. Serve immediately in a large bowl with fresh bread to sop up the juices.
Note: I learned how to crab from my dad who learned how to crab from his and so on down the line. I'd sure love to hear your family crabbing stories AND if you have your own family recipe for Garlic Crabs...please post it!