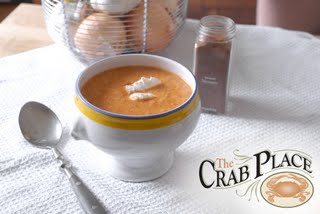 I like Bisques and have recently become a fan of using a blend of lobster and crabmeat. I am hoping to start a trend and maybe after trying this simple bisque, you'll give it a try and share this recipe with all your friends. And if you are set on adding a pinch of Old Bay instead of nutmeg, well go ahead.
Roasted Vegetable Crabster Bisque
makes 4 servings
4 tablespoons unsalted butter
1 medium onion, minced
2 cup diced tomatoes (with liquid)
1 baked potato broken up with your hands
5 cups chicken broth
1 cup heavy cream (or milk for lower fat)
½ cup pureed roasted butternut squash
1 cup roasted cauliflower
½ pound chopped lobster meat
½ pound claw crabmeat (it's has the deepest flavor)
Salt and freshly ground black pepper
pinch of nutmeg
Crème fraiche
Melt 2 tablespoons of the butter in a large pot over medium heat. Add the onion. Cook until soften, about 7 minutes, stirring every so often. Add in the tomatoes, potatoes, broth, and cream, pureed veggies, roasted cauliflower and puree it with an immersion blender. Let the soup simmer slowly for 15 minutes.
Reduce the heat to low and place transfer the lobster meat and claw crabmeat into the soup and puree it thoroughly with an immersion blender. And be very careful when blending as the soup is hot! See note below about consistency.
Add in the remaining 2 tablespoons of butter and boil the soup for another 2 minutes. Taste for salt and pepper, and add a pinch of nutmeg. Serve immediately with a dollop of crème fraiche.
Note: I like my soup very smooth which requires me to blend it for at least 2 minutes. But this is up to you. If you like it chunky, don't blend up the lobster and crabmeat.