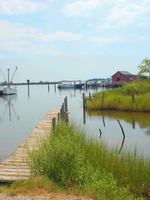 We've all seen quite a few stories in the news media lately about the decline of the Chesapeake Bay's Blue crab fishery. These articles usually manage to quote various seafood industry people lamenting that a weaker crab season results a willingness of some sellers to pass lower-quality crabs on to the market.
So crab lovers around the country (namely our customers) are probably wondering: how can CrabPlace.com, located in the heart of the Cheaspeake Bay region, continue to offer Blue crabs that are large, meaty and plentiful with steady prices?
The answer is pretty simple; it's all about good sourcing.
Its hard for the media to take a long view here, because lets be honest - the "sky-is-falling" tone is what gets the reader's attention. But the reality is that the
Chesapeake Bay's Blue crab stock is cyclical
- with some seasons up, and some down. Regardless of high seasons or low seasons, our philosophy is to buy the highest quality product available and weed out the less desirable. We can't simply can't risk losing a customer over crabs that are too small, or too light on the meat.
We source from several areas in domestic US waters throughout the year to secure the best quality Blue crabs available. Crab runs hit at different times in multiple locations, so you can't source in the same place all year, or you'll be inundated with less than ideal crabs, and as long as it's a Blue crab, quality is quality, whether it comes from Maryland or somewhere else like North Carolina or Louisiana. If we source well, it's not really all that difficult to find premium product.
Markets for cheap, inexpensive lower quality crabs do exist. But "we've been doin' this awhile" as they say, and the watermen (as well as wholesalers) know that
The Crab Place
is not a part of these markets, and they know that we will return inferior crabs as unsellable. Good sourcing boils down to a single sentence -- "we don't buy the junk in the first place, so you don't have to deal with it."
If it means paying a little more for the crabber to give us a better grade, so be it. Seasonal numbers may in fact be down. And at the end of the day that is not something we can control all that much. But one thing we can control is our standards of quality when it comes to Blue crab, and you can bet that they'll never go down.