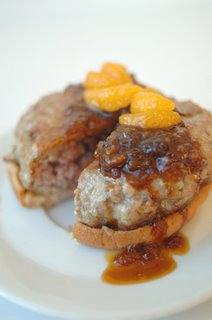 Glazes are an easy way to add as much or as little extra flavor to a traditional burger. I like to drench my tuna burgers in glaze and always include extra for dipping. To mix it up even more, slice the burger as thin as possible and serve it over a bed of lettuce with the sauce drizzled everywhere. This is a great appetizer.
If you like this recipe, you'll be happy to know this technique also works with fresh scallops, salmon, and shrimp. I highly recommend using the food processor to mince the seafood to the right consistency. If you want to make these burgers with crabmeat, check out the notes below.
Fun note: this was featured on the TODAY show and quite the hit!
Tuna Burger with Orange-Ginger Glaze
makes 4 hearty burgers
For the glaze:
1 tablespoon teriyaki sauce
1 tablespoon soy sauce
½ teaspoon minced fresh ginger
½ teaspoon minced garlic
1 tablespoon honey
1/3 cup canned mandarin oranges, drained and chopped, plus 2 tablespoons of the canning juice
For the burgers:
2 pounds fresh tuna steaks
2 teaspoons minced garlic
1 teaspoon kosher salt
¼ teaspoon freshly ground black pepper
¼ cup sesame oil (or olive oil)
4 fresh burger buns, toasted and buttered
Make the glaze: Combine all the glaze ingredients with 1/3 cup water in a 1-quart saucepan and bring to a boil. Lower the heat and simmer until the glaze coats the back of a spoon, about 10 minutes. Strain through a sieve (or don't, if you like chunky glazes) and reserve in a warm place until the burgers are cooked.
Make the burgers: Remove any skin or gristle from the tuna, then grind up the tuna in a meat grinder or chop it with a sharp knife just to the texture of hamburger meat. If you have a food processor, you should chop the tuna into cubes first and use the plastic dough blade to mince the tuna.
Transfer the ground tuna to a bowl and combine with the garlic, salt, and pepper. Mix thoroughly. Divide the tuna into 4 equal portions. Using your hands, roll each into a smooth ball and then flatten into a compact patty.
Heat the sesame oil in a large skillet over a medium-high flame and sear the burgers until browned outside and medium-rare, about 2 to 3 minutes per side. Serve each on a buttered, toasted bun topped with 1 tablespoon of the warm glaze.
Make these burgers with crabmeat:
Use 1 pound of crabmeat, 1 large egg, beaten, 3 tablespoons mayonnaise, 8 crumbled no-salt saltine crackers, 1 teaspoon minced garlic, 1 pinch kosher salt and freshly ground black pepper, and ¼ cup olive oil for frying.
Cooking Times
tuna: about 2 to 3 minutes per side for medium-rare
salmon, scallops, cleaned shrimp, fresh lobster meat, crabmeat: 4 minutes per side This meat should turn opaque to be cooked through. For this, it's best to use a lid during the cooking process.