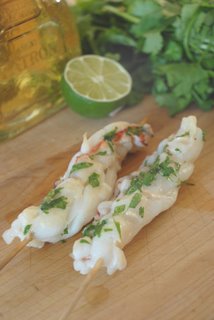 Grilled Tequila Lobster Tails
are perfect for tailgating and grilling outside!
I posted this recipe a few years ago via a video, which went missing. So I am posting this delicious and popular recipe again with the written recipe. Enjoy!
I know what you are thinking...tequila and lobster? Trust me it's beyond delicious! If you don't have a grill, these lobster tails can also be prepared in a large skillet. Use the same preparation and cooking time over medium high heat. If the skewers are too long for the skillet, cut them down so they fit. The skewers make it nice because you can pick them up and it forces the lobster meat to cook straight versus curling up. And this recipe also works with: scallops, shrimp, fish, clams, crawfish, really any kind of seafood!
Grilled Tequila Lobster Tails
The marinade below is enough for three 1 to 1½ pound lobster tails
Remove the lobster meat from the tail, to do that insert kitchen scissors down the back of the tail and cut out the underside. Do this carefully as the lobster shell is very tough. Once the underside is cut out, carefully open the shell to release the meat. Jiggle the meat out so that it remains in tact. In other words, don't pull because you want it to come out in one piece.
Once you remove the entire piece of the tail, butterfly the lobster tail and remove the vein. Slice the lobster tail down the middle and place both sides of the tail on a bamboo or metal skewer*.
Once the tail is on the skewers, generously drizzle it with the grilling tequila marinade (the recipe is below). Grill the lobster over medium high heat for 2 minutes per side. Make sure to baste it while grilling. Serve immediately.
Grilling Tequila Marinade
2 tablespoons melted butter
¼ cup chopped fresh cilantro leaves
½ teaspoon of minced roasted garlic
½ lime squeezed for juice
¼ cup Tequila
Combine the butter, cilantro, garlic, lime juice and tequila together and whisk until well combined. This marinade is enough for three 1 to 1½ pound lobster tails.
*it is always good to soak your bamboo skewers for 20 minutes before grilling.