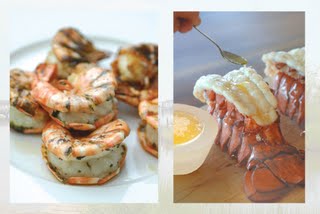 I love cooking competitions, I really do. It is somewhat of a tradition in my family and has expanded over the years. When I was really little we used to gather down at the shore and cook up different varieties of meals and see which was the tastiest. By far the hardest competition to judge was always between shrimp and lobster. And this year I decided I was going to take this competition beyond my own doorstep to really learn the truth. So as the weather turns warm, start up a little competition in your house and report back the results. Also, tell me where you live and then where you are originally from, because I have a theory!
To get you started here are two simple recipes and best of luck!
Herb-Stuffed Shrimp
makes 4 servings
2 tablespoons finely chopped fresh basil, rinsed and patted dry
4 tablespoons finely chopped fresh flat-leaf parsley, rinsed and patted dry
1 medium clove garlic, minced
1 teaspoon kosher salt
pinch freshly ground black pepper
2 tablespoons unsalted butter, softened
1 tablespoon olive oil, for frying
12 jumbo shrimp, the larger the better, deveined and butterflied, but shells on
1 teaspoon freshly squeezed lemon juice
In a small bowl combine the basil, parsley, garlic, salt, and pepper. Add the 2 tablespoons softened butter and mix until a paste is formed.
Stuff the herb butter paste between the shrimp shells and meat.
Pour the olive oil into a large skillet over medium heat. Cook the shrimp for about 3 minutes per side, or until the meat turns opaque. Serve immediately, dribbled with the lemon juice.
Butter Broiled Lobster Tails
makes 2 servings
2 large lobster tails, from a 1½-to 2½-pound lobster
2 tablespoons unsalted butter, melted, plus additional melted butter for serving
1 teaspoon sea salt
With a pair of scissors, cut down the top center of the lobster shell. Gently pull out the meat, rinse the shell, and set it aside. With the scissors, carefully butterfly the tail. Place on a sheet pan with the opening facing up, and brush generously with butter. (I also like to skewer the tail so it won't curl) Heat the broiler and place the rack 6 inches from the heat source. Broiling time will vary: 1½ pound lobsters need 10 minutes; 1¾ pounds need 11 minutes; 2 pounds need 13 minutes; and 2½ pounds need 17 minutes.
Meanwhile boil the shell to clean it.
Remove the lobster and place the meat back into the boiled shell opening to serve, with more melted butter and sea salt.
You can also broil the meat in the shell if you prefer. Cooking time is the same.