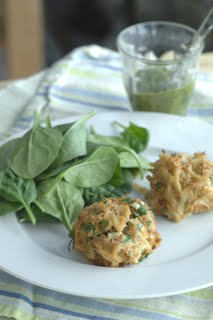 For those of you who have never made Cheesy Crab Cakes, I really suggest you do. Even if it is just for the experience, which it certainly will be. I made my first cheesy crab cake after whipping up my favorite cheesy crab dip. In the moment, I just wanted a crab cake. So I formed a few and placed them on small sizzle platters (you know the kind that you see steak restaurants use) and baked them for 20 minutes. Well, let me just say, it was outstandingly delicious. What I have discovered over the years is the harder the cheese, the better (at least for me). It doesn't quite melt as fast and so helps the crab cake maintain its shape. Right now, I am enjoying long shreds of Parmesan Cheese; blocks are available in most supermarkets so you can shred it yourself. And yes, I have tried it with home shredded: cheddar, Romano, Spicy Jack, Manchego, American, mozzarella, Brie, and even cream cheese (which doesn't need to be shredded!). And yes, all are exceptional. In fact, try them all and find your favorite. And by all means, please send us feedback, as we love to read it.
Southern Cheesy Crab Cakes
4 Servings
1 large egg, beaten
3 tablespoons mayonnaise
10 no salt saltine crackers, crushed
1 teaspoon kosher salt
2 teaspoons seafood seasoning, such as Old Bay
1 pinch dried thyme
3 tablespoons finely chopped flat-leaf parsley
1 pound freshly picked lump crabmeat, picked over for shells and cartilage
¾ cup coarsely shredded Parmesan or Any Cheese (you want the cheese as wide and long as possible. It will help the crab cake stay together)
Preheat the oven to 400 F with an oven rack set in the middle.
In a medium bowl, combine the egg, mayonnaise, crushed crackers, salt, seafood seasoning, thyme, and parsley. Mix well. Gently fold in the crabmeat. Avoid over-blending. Then fold in the shredded cheese. Form the mixture into 8 patties.
Place the crab cakes on a metal sheet pan and place them in the oven to bake for 15 to 20 minutes or until golden brown. Half way through the cooking process turn the crab cakes around so they cook evenly. .
Serve the crab cakes immediately.