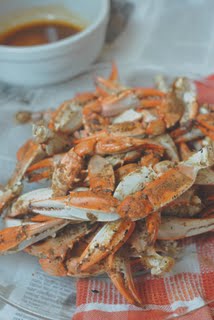 I love steamed crab claws. In fact, nothing is quite as delicious as sitting down and enjoying a few with a tall frosty beer. I like to dip my claw meat in a little bit of white vinegar and then into a bowl of Old Bay. When I was explaining this to a friend last week they stared me straight in the eye and said, "are you kidding me? It's J.O. all the way." Well needless to say that conversation went on for quite some time and in the end after breaking a few claws together we agreed to disagree.
I had so much fun with this conversation this holiday I have decided to set up a blind taste test with my family and friends. I suspect it's going to get quite heated and be lots of fun too. (I'll probably have to hide the mallets if it gets out of control!)
If you are like me and enjoy crabs here are just a few other great dipping sauce ideas, many of which come from our customers! Please be sure to send in yours!
melted butter
melted herb butter
melted butter with a splash of Tabasco (or Old Bay!)
Beer
mayonnaise (I am not sure about this one!)
melted cheddar cheese
melted brie
tartar sauce
vinegar and pepper
garlic ailoi
Caesar dressing
Blue Cheese dressing
Soy Sauce
Miso Sauce
Coconut milk with a pinch of ground Curry
Pepper sauce
Worcestershire sauce
mashed roasted garlic sauce
chicken broth