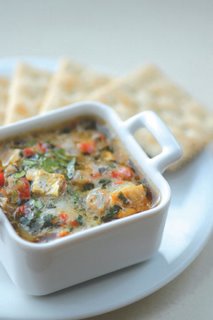 I got a request for Oyster Rockefeller Recipe and highly recommend converting the traditional recipe into a dip and that's what I've done here. It's very easy and super delicious!
This full-flavored recipe is perfect with crackers and sliced fresh bread and also works well tossed with thick spaghetti or as a layer in seafood lasagna or even an omelet.
For presentation, I have also stuffed this dip into a hollowed-out tomato. Use small ripe tomatoes so you can pick it up and eat it whole.
This dip can be prepared in advance and then baked moments before serving. This helps if you are planning a party and want to be front and center when your guests arrive.
Oysters Rockefeller Dip
makes 4 servings
8 tablespoons (1 stick) unsalted butter
1 tablespoon all-purpose flour
2 ounces Pernod
2 medium shallots, peeled and finely chopped
1 cup frozen chopped spinach, thawed
12 oysters, shucked, meat removed and roughly chopped (or already shucked oysters)
1 red bell pepper, finely chopped
¼ cup heavy cream
8 ounces Brie cheese, at room temperature, cubed for quicker melting
1 tablespoon chopped flat-leaf parsley
Crackers or sliced fresh bread for serving
Heat the oven to 350 degrees. In a large skillet over medium-low heat, melt the butter and stir in the flour. Keep stirring until a thick paste (roux) forms, about 10 minutes.
Carefully deglaze the pan with the Pernod. Add the shallots and let them simmer for 5 minutes. Add the spinach, oysters, red pepper, and heavy cream, and stir until all the ingredients are well combined.
Transfer the dip into one attractive baking dish or several individual ramekins. Top with the Brie cubes. Bake for about 20 minutes, until the Brie has melted and become creamy. Let the oyster dip rest at room temperature for 5 minutes or so, to let the filling set. Sprinkle with the parsley and serve with the crackers.