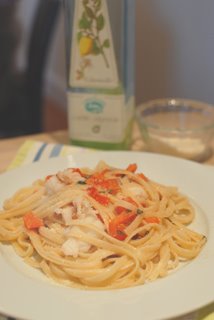 Are you planning a romantic dinner or something special for a friend and need to come up with a really easy recipe for two? ...and perhaps you even want to save a little money but still want great flavor and impress your guest?
If the answers are yes, limoncello lobster pasta is the perfect recipe!
Limoncello lobster pasta only uses one lobster tail, which is removed from the shell and cut up into 1-inch pieces. It also incorporates your favorite chopped veggies, herbs, and of course a dash of limoncello. For veggies, I like to use red belll pepper and tomatoes; and, for herbs, I prefer parsley. If you don't happen to have any limoncello the liquor cabinet, that's ok, because red or white wine also work. Even tequila, triple sec, sake, or any kind of flavorful liquor that more or less sounds like it would contribute to create a robust flavor.
This dish also uses 1/2 pound of pasta, and any kind works. I prefer spaghetti, because I like to twirl, but penne, or any short pasta would be appropriate.
Limoncello lobster pasta takes about 15 minutes from start to finish and can be prepared in advance. If you want to do that, cook everything but the lobster and throw it together in the skillet (you'll see what I mean when you watch the video). When you are ready to eat, heat up the pasta and saute the lobster in a separate skillet. When the lobster is done, throw it into the pasta skillet and toss.
And if you are hardcore Maryland crabmeat fan as I am, consider tossing it into the skillet when you are sautéing the lobster. For that matter, scallops and shrimp would also do a lot to enhance this dish too! Just add little bits to make sure to keep the cost low, unless you feel like splurging, in which case, let your stomach decide!