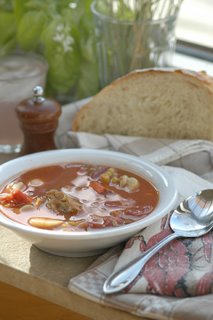 Warm Crab Claw Soup satisfies on many levels. It's comforting, delicious, and affordable. I like my crab claw soup to last me the week, as each day passes, the flavor becomes that much deeper, richer so by the end of the soup, I am sad to see it go. And as I reflect on being well fed throughout the week, I simply decide to make up another batch. And this is how I get through the winter! I highly recommend you give it a try.
I like to create a little variety to my crab claw soup. Sometimes I break up a whole crab and cook it in the soup, as the recipe outlines below, and other times, I omit this. Crab Claw Soup should and can be whatever you want it to be. Add potatoes, celery, corn, green string beans or not: the choice is totally yours.
Be careful not to overcook this soup and you'll note we use the freshest—though not the most expensive—crabmeat: crab claw meat. If you feel like splurging however, use a little backfin crabmeat as garnish when you serve the soup.
Warm Crab Claw Soup
makes 8 servings
optional: 6 steamed hard blue crabs, top shell and claws removed, cleaned and broken into halves
1 large beef soup bone
1 celery stalk, finely chopped
1 medium white onion, finely chopped
1 bay leaf
1 32-ounce can crushed tomatoes
¼ small head cabbage, finely chopped
1 tablespoon seafood seasoning, such as Old Bay
1/8 teaspoon freshly ground black pepper
2 cups fresh or frozen white corn kernels
2 large potatoes, scrubbed, boiled until nearly tender (20 to 30 minutes), and chopped into ¼-inch cubes
1 pound claw crabmeat
1 teaspoon kosher salt
Pour 5 quarts of cold water into a large stockpot and place it over medium-high heat. Add the crab halves and claws, the soup bone, celery, onion, bay leaf, crushed tomatoes, cabbage, seafood seasoning, and pepper. Bring to a boil and boil for 5 minutes. Reduce the heat to medium-low, and let the soup simmer lazily for 1 hour. Remove the soup bone and bay leaf and add the corn, potatoes, crab claw meat, and salt. Cook for another 10 minutes. Serve immediately in a deep bowl. Be sure each serving includes a crab half and claw for picking.