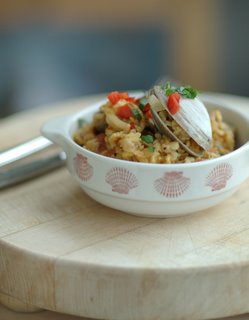 I love to spice up my rice with delicious and healthy seafood, I find this especially useful around the holidays--it's an easy dish that can be adjusted based on what you have available. Below I prepare this recipe with
clams
, but you could certainly do this with
crabmeat
,
lobster meat
,
fish
,
oysters
... almost any type of seafood would be perfect.
Fancy Seafood Rice
2 to 3 cups uncooked rice
optional: 1 tablespoon Spanish Rice seasoning (may be called paella)
1 bunch live clams
, scrubbed clean
1 cup chicken broth
½ cup white wine
1 teaspoon minced garlic
½ red bell pepper, cored, seeded, and finely chopped
1 tablespoon freshly chopped parsley
optional: 1 tablespoon unsalted butter
salt to taste
First start out by cooking the rice according to the manufacturer's instructions. Usually, 1 cup of rice requires 1½ cups of water and cooks for 20 minutes. I recommend preparing 2 cups of rice. If you like Spanish rice seasoning, add it now to the rice before it is cooked.
When the rice has 5 minutes left to cook, prepare the seafood.
Place the scrubbed clams into a medium sauce pot over medium high heat. Add in the chicken broth, white wine, minced garlic, chopped red bell peppers, parsley, and optional butter. Cook everything together with a tightly fitted lid until the clam shells open, or about 2 to 3 minutes. Once they do, turn off the heat. Discard any clams that did not open.
By now the rice should be finished cooking. Transfer the rice into a large bowl along with the clams and all its juices. Toss everything together until it is well combined. Taste and correct with salt. I recommend about ½ teaspooon of salt. Serve immediately.