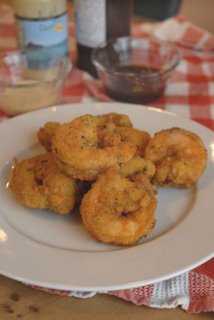 If you are staying home and watching the game this weekend and maybe even plan to have a few friends over, I highly recommend you try this dish. It takes about 15 minutes to prepare and serve from start to finish. And let's face it, it's real hard to beat fried shrimp.
Just listen to how easy...
When I prepare fried shrimp, I like to use a pair of kitchen scissors to remove the vein. (check out the video below to watch) Once the shrimp is deveined, I remove the shell and give the shrimp a good rinse.
Then prepare a egg/milk bath in a bowl alongside a bowl of my favorite breadcrumbs. Place the shrimp into the egg/milk bath and then into the breadcrumbs. Make sure the shrimp is well coated. Set the shrimp aside to dry a minute, and if you want to double dip, go ahead.
Meanwhile, in a heavy pot filled halfway with oil, heat it to 365F. When the oil is hot, carefully place the shrimp in and fry them until they are golden brown. This takes about 2 minutes. Keep an eye on the shrimp however, because every stove is different!
To serve, consider breaking out some of your favorite condiments. I like tartar, cocktail, ketchup, and even BBQ sauce.