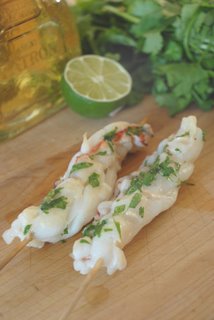 Grilled Tequila Lobster Tails
are perfect for tailgating and grilling outside!
I know what you are thinking...tequila and lobster?
Trust me it's beyond delicious!
The lobster tails are placed on skewers so they are easy to pick up (and portable) making them ideal for tailgating parties. And of course the flavor is incredibly delicious. And if you have to step outside to light your grill in the dead of winter and it is snowing like it is in this video, grilled tequila lobster tails take about 2 minutes per side...so it's a short wait.
Now if you don't have a grill, these lobster tails can also be prepared in a large skillet. Use the same preparation and cooking time over medium high heat. If the skewers are too long for the skillet, cut them down so they fit. The skewers make it nice because you can pick them up and it forces the lobster meat to cook straight versus curling up.
And this recipe also works with: scallops, shrimp, fish, clams, crawfish, really any kind of seafood!
Note: This recipe is perfect for tailgating and grilling. If you cannot grill with an open fire at the tailgating site but you want that flavor, do it beforehand and wrap the lobster skewers in a foil pouch with any leftover sauce drizzled on top. Before eating, heat the lobster tail skewers right in the foil pouch and serve!