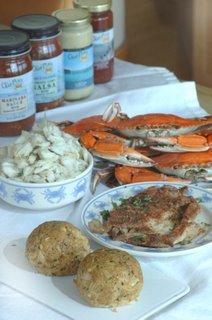 I grew up feasting on delicious crab for the holidays. In fact, I didn't know there was much of a difference in our Maryland Family traditions from the rest until I was older and brought home friends for the holidays. It still makes me smile when I think about their expression as the hard crabs and crab cakes were brought to the table. All the pomp and circumstance went right out the window as we covered ourselves in napkins and rolled up our sleeves to dig in.
I think all things crab are especially delicious around the holidays. Hard crabs require time to pick through allowing people to catch up on the year. And crab cakes essentially require no time at all giving the host a much needed break to sit down and enjoy the company.
This year we also launched two new tasty and economically friendly products: Maryland crab salsa and Maryland crab marinara. If you are watching your budget, but don't want to give up the crab, these are perfect. And since they are shelf stable, they are also great gift giving treats!
We wish you a delicious holiday season!