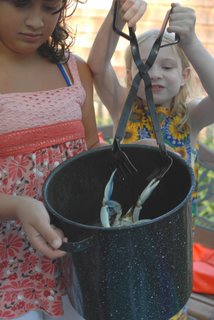 With the holidays around the corner, it's that time of year again—planning the holiday menu. And what better way to bring people together for entertainment and great tasting food than to throw your family a traditional Holiday Crab Feast.
If you have already thrown a traditional Crab Feast you know what I am talking about however, if you have never tried this mid-Atlantic regional specialty, it's worth putting it on your list of things to do. And it doesn't matter where you live; we ship hard crabs all across the United States.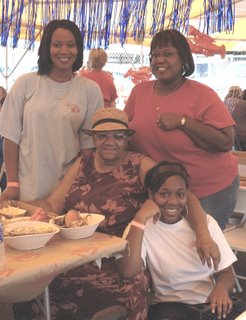 So how do you throw a crab feast?
You'll need Maryland live or steamed hard crabs of course,
(to purchase hard crabs click here)
and if you feel like it consider a few crab balls (2-ounce crab cakes) and tartar sauce.
(to purchase crab balls click here
and to order tartar sauce click here)
Additionally, it's key to have a few crab mallets, heavy paper to line the table, seafood seasoning, and if you are so inclined, freezer cold beer or my recipe for Southern Shore Punch, see below.
(to purchase accessories click here)
As a kid my Grandmother Edna would throw weekend crab feasts throughout the year. Picking crabs is a process so it is a good opportunity for everyone to sit down and spend quality time together.
How to pick crabs? Watch these two videos for a lesson. (
Tonya Picking Crabs
,
Rebecca's Cousins Picking Crabs
)
Another reason to consider a crab feast is that minimal preparation is required and clean up is a breeze—plates aren't necessary when picking crabs, so when you are done, simply roll up the paper and toss it out.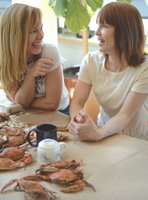 In my grandmother's house, traditional crab feasts always included crab balls and tartar sauce. She fried the crab balls in a little butter and served them as appetizers to start the party—a small bite to give you energy for prying open meaty hard crabs.
So, if hanging out and eating great food sounds like fun, consider throwing a crab feast for your next holiday gathering. We'd love to help you out to create lasting and tasty holiday memories!
Watch Rebecca's brother show you how to steam crabs.
Some say that no crab feast is complete without a speciality drink...I can go either way, but if you feel the same, check out my recipe for Southern Shore Punch. It's sure to spice things up a bit...
Southern Shore Punch
4 oranges, peeled and cut into thin round slices
2 apples, peeled, cored and sliced into thin wedges
2 6-ounce frozen lemonade concentrate
1 6-ounce frozen cranberry juice concentrate
2 liters Sprite
½ liter Southern Comfort
In a large pitcher combine the lemonade and cranberry concentrate. Add in the sprite and southern comfort and mix until the concentrate is dissolved. Add in the oranges and apples and serve with chipped ice. If you don't want to serve alcohol at your crab feast, just omit the Southern Comfort from the recipe.