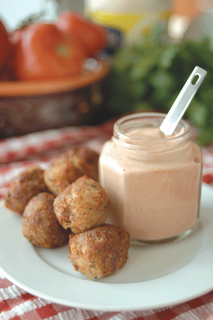 I grew up down at the shore on the Chesapeake Bay and some of my best memories there are about crab balls, or in my family pronounced something like
creb bowls
...
Crab balls were always on the menu when we had family gatherings because it is a bite-size morsel that can be popped in your mouth while still holding a drink. Now that being said, all drinks count, including fresh squeezed lemonade, which was also my favorite. Back then my beloved thing to do was stuff myself with as many
creb bowls
as I could get away with. I can still remember hiding under my twin aunts wedding party table with all my pockets fully loaded.
I think crab balls go especially well with a creation I call Sunset Sauce—which is basically a blend of cocktail and tartar sauce.
At your next party, consider these little gems. They are easy to prepare and you can do all the work well in advance and freeze them to be fried while frozen for 2 minutes, or until golden. Or even better, save yourself the time and just order our delicious and award-winning 2 ounce
crab balls
! We do all the picking and preparation for you. And as my grandmother once said, "
creb bowls
they are the best part of the crab!"
Crab Balls with Sunset Sauce Makes
6 to 8 Servings
For the Crab Balls:
1 large egg, beaten
2 tablespoons mayonnaise
1 cup breadcrumbs
1 teaspoon kosher salt
1 pinch cayenne (if you like it spicy, an extra pinch, but be careful!)
1 tablespoon lemon juice
1 tablespoon coarsely chopped fresh thyme
1 teaspoon coarsely chopped fresh flat-leaf parsley
Optional: 1 teaspoon CrabPlace.com
seafood seasoning
1 pound CrabPlace.com lump crabmeat, picked over for shells and cartilage (order here for
crab meat
)
Vegetable oil for deep-frying
For the Sunset Sauce:
1 cup CrabPlace.com Fancy Tartar Sauce
3 tablespoons CrabPlace.com Old-Fashioned Cocktail Sauce
In a medium bowl, combine the egg, mayonnaise, breadcrumbs, salt, cayenne, lemon juice, thyme, parsley, and optional seafood seasoning. Mix well. Gently fold in the crabmeat. Avoid over-blending. Form the mixture into 1-inch balls.
In a large heavy Dutch oven, heat 4 inches of oil until 320 degrees. Add a handful of the crab balls and deep-fry for 1 to 2 minutes, or until crispy.
Meanwhile prepare the Sunset Sauce. In a small bowl, combine the tartar sauce with cocktail sauce and stir until well-blended and pale orange. Drain briefly on paper towels and serve immediately with Sunset Sauce.
Here you can find all Crabplace seasonings & seafood sauces!