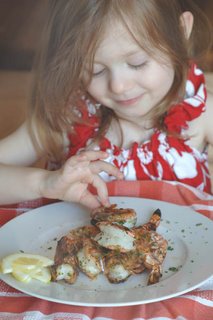 I enjoy my grill and especially like to fire it up for seafood. As a mom of three grilling dinner makes an evening much more pleasurable—less dishes to clean, the great flavor, less cooking time, it's healthy, and it is a great American pastime. You get the picture. But there is one real hang up to this image of grilling bliss, and it's that
(GULP!)
my kids aren't big fans of grilled seafood...
Ok. So, that's the truth. They just aren't big fans, but as a person who has always loved seafood I was determined to turn this around. I wanted to for so many reasons:
1. Seafood is healthy
2. Seafood is an experience
3. I'm an owner of a seafood company.
Maybe number three was a little bit of my ego talking, but at the bottom of it all, I just wanted my kids, and for that matter the people around me, to appreciate and share in how delicious seafood in all its forms could really be.
Now to give you some background, my kids eat hard crabs, crab cakes, and crab meat. That was never an issue and probably because they'd been doing it since they were babies. But the rest, such as shrimp, lobster, and fish—well, that was a different story.
So after some thought, I decided that the best way to turn my kids onto grilled seafood was for the introductory dish to have two qualities: taste out of this world and be entertaining (like maybe they would be so enthralled they'd forget it was seafood?).
After some thought, I choose—grilled stuffed shrimp. Click here to buy
stuffed shrimp
!
Stuffed shrimp is exactly as it sounds: large butterflied shrimp stuffed with herbs, butter, and garlic between the shell and the flesh. The shrimp are then placed on a hot grill so they cook in their shells. The shrimp's hard shell bears the brunt of the heat and burns slightly, but it doesn't matter because it's peeled away to reveal a tender and juicy shrimp! And that's where the entertainment comes in. Peeling away the outer shells is lots of fun—like unwrapping a present. And even stuffing the shrimp before grilling I found was pretty engaging too.
So to make a very long story short—so you can get your shrimps on the grill—I finally got my kids eating (sampling might be a better word) grilled stuffed shrimp. Grilled fish is up next (and feel free to e-mail suggestions), but for now we are having lots of fun preparing the grilled stuffed shrimp with interesting and delicious stuffing combinations (see a list below.) And for the first time, we're grilling and having seafood dinners together.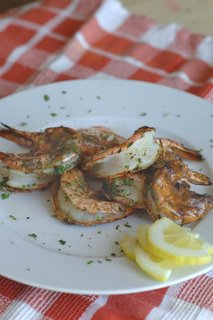 Grilled Buttery Herb-Stuffed Shrimp
Makes 4 servings
This method of grilling shrimp–in their shells on high heat–works well: the shrimp cook fast and stay tender and juicy. Once you have mastered this technique, I suggest creating a variety of stuffings based on your favorite ingredients. This recipe is especially handy for casual gatherings where easy preparation is very important. At the table, make sure to include: napkins, as picking the shells off to get to the tender shrimp can get a little messy but oh so fun; and little bowls, for the discarded shells.
For the Stuffing:
½ cup finely chopped fresh basil
½ cup finely chopped fresh flat-leaf parsley
1 medium clove garlic, finely minced
1 teaspoon kosher salt pinch freshly ground black pepper
2 tablespoons olive oil or softened unsalted butter
For the Shrimp:
1 pound large shrimp, or about 21 shrimp per pound, the larger the better, deveined (click here to buy
fresh shrimp
)
and butterflied, but shells on (see note on technique below)
1 lemon cut into wedges
Heat a well-seasoned grill to medium heat.
In a medium bowl combine the basil, parsley, garlic, salt, pepper, and olive oil (or butter). Mix until a herb paste is created.
Stuff the herb paste between the shrimp shells and meat. Grill the shrimp for about 2 minutes per side, or until the meat turns opaque. Serve immediately with lemon wedges.
How to Butterfly a Shrimp…while leaving the shells on
The best way to bufferfly a shrimp while leaving its shell on is to use a pair of kitchen scissors. Start at the top and cut down the back to the tail almost the whole way through, leaving enough flesh so the shrimp is still connected. It's far easier to cut through the shell with scissors than slicing through it with a knife. However, if you plan to use a knife, make sure it is sharp. Take care, as the shell can be slippery causing the knife to slide.
Some other stuffing ideas:
Mojito Stuffed Shrimp: Mint, lime zest, olive/butter and a douse of Rum
Sicilian Stuffed Shrimp: Sun dried tomatoes, garlic, olive/butter, and a splash of Red Wine
Mexican Stuffed Shrimp: Cumin-or Mexican seasoning, finely Diced tomatoes, Cilantro, and olive/butter
Hawaiian Stuffed Shrimp: mashed pineapples, curry, cilantro, and olive/butter
Southern Stuffed Shrimp: southern bbq sauce, drop of Tabasco sauce, olive/butterMy next blog entry will be:
Grilled Fish!