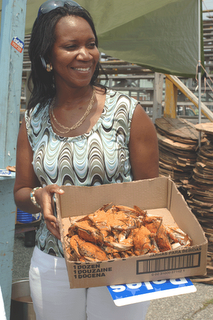 Tonya holds the finished product...delicious steamed Maryland Blue Crabs. To make your own steamed crabs, either catch them yourself, or simple order live blue crabs from us.
Watch our clip for easy and fun instructions.
My brother David and his assistant Jack demonstrate how to select, season, and steam, live Maryland Blue Crabs
Beer-Steamed Blue Crabs
makes 4 servings
My grandmother Edna said, "Never overcook your crabs"—steam them for 20 minutes or until they are bright red. You may want to use a proper steaming pot with an inset to get this right. When I was a kid, hard crabs were steamed immediately after being caught off our pier. They were served breakfast, lunch, and dinner with fresh buttered rye bread.
½ bushel live blue crabs (2½ dozen)
16-ounce bottle of beer (no crazy flavors, stick to mainstream brands)
4 heaping tablespoons CrabPlace.com seafood seasoning
Rye bread, sliced and buttered
In a pot deep enough to accommodate all the crabs, use tongs to place the crabs in the pot. Sometimes this is difficult because the crabs may grab one another, but do the best you can. When the pot is filled with crabs, pour in the beer and the seasoning. Cover the pot tightly and place it over medium-high heat. When the beer boils, cook the crabs for 20 minutes, or until bright red. Using the tongs, carefully remove the hot crabs from the pot and place them on a strong serving tray. Line your table with several layers of newspaper, put out crab knives and mallets, and start eating. Careful, those crabs are hot!