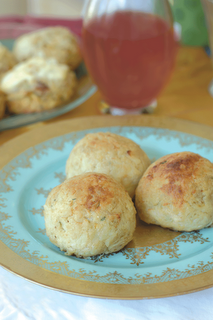 Red Wine and Crab Cakes
Last week someone asked me what type of
wine would pair well with baked crab cakes
. When I thought about my response—which would be "red wine"—it got me thinking...
Traditionally, seafood is supposed to be served with white wine, specifically, dry white wine or a Chardonnay, Sauvignon Blanc, but, I cannot drink it.
For whatever reason, no matter how small the glass, white wine just doesn't go down right. But, for those that can drink it, I have been told that the dry, crisp cold white wine is smooth and delicate and doesn't interfere with the rich and also delicate crab cake flavor. Ok, that makes sense. So if you are a white wine drinker, make sure to pick a white wine that's not too oaky or sweet, yet somewhere in the middle of the road. A chilled inexpensive California Chardonnay from Napa Valley or a Sauvignon Blanc from Australia or New Zealand would be fantastic.
Although if you like your white wine super sweet, my dad and mom actually drink Spätlese, which is a German wine, and swear by it. It's the end of harvest grape and very-very sweet. It's way over the top for me, but I do enjoy watching them drink it because they sometimes mix it with Fresca (Gulp, if you are an avid wine drinker please just look the other way on that one.)
Ok. So back to my issue of only being able to drink red wine: If you are like me and white wine is off your list, I recommend a dry red wine such as Shiraz/Syrah or a regional Italian red Wine from the towns as San Gimignano or Orvieto. Otherwise if you want a little spice in your red wine, go further south and open a Sicilian red wine from the town of Santa Margharita di Belice. If this town sounds familiar, it is where Burt Lancaster filmed the Leopard. (Do you think he enjoyed a few bottles while on site? I'll bet.)
Additional great ideas to dressing up a crab cake are to top it before baking with either mayonnaise—which turns golden brown—or cheese, such as shredded cheddar or thinly sliced brie. Whichever soft cheese works here, so explore and experiment.
Crab cakes
are also delectable served with crackers, toast, pasta, salad, seafood, cheese, along with our homemade tartar sauce. Simple is good.
However, if you aren't baking, but frying instead, all the fancy wine talk really for me goes right out the window. After all, "crab balls" and wine just don't groove.
Fried crab balls
are best served with really cold-cold beer or chilled Sangria (see the recipe below). My favorite beers are full bodied. I am not a big beer drinker, but when I do, it's Bass or Guinness. American Beers, such as Miller or Budweiser are also good, but you have to set a mug in the freezer so they are nice and frosty upon the first sip. My favorite Sangria is homemade and easy enough to prepare. Adjust the strength to suit your taste and the occasion.
Really, no matter what your choice for pairing with baked or fried crab cakes/balls, white, red, beer, Sangria or none, crab cakes are delicious (especially ours!) and are also perfect simply on their own. Go ahead and order a few
crab cakes
here and tell us your results!
Sangria
1 bottle red wine, such as: Merlot, Rioja Reds, Shiraz or Sangria
4 tablespoons maple syrup (or 2 tablespoons white sugar)
1 blood orange, cut into wedges
1 lemon, cut into wedges
1 apple, cored, and cut into wedges
2 shots your favorite Brandy
2 cups Ginger Ale
Combine the wine, maple syrup, orange, lemon, apple, and brandy in a large glass pitcher and let it soak in the refrigerator for 30 minutes. A few moments before serving add in the Ginger Ale and enjoy!