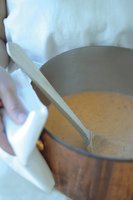 As the cool winds of the Fall make their way across the Chesapeake Bay it is not uncommon for a Nor'easter Storm to brew and strike unexpectedly. It's these moments, after running from the looming squall to avoid the gallon rain drops that I find Creamy Crab Soup extra delicious!
I remember one such occasion as a kid. I was crabbing on our rickety pier on the Bay when a storm approached. We scrambled as fast as we could out of harms way up to the house. The noise of the wind was tremendous.
When we entered my grandparent's shore house, my grandmother Edna had just finished preparing a pot of Crab Soup (from the crabs we had caught the day before.) Sitting on the porch still wet from the storm with a warm bowl in hand, I felt a strong respect for nature and its power. I could hear the waters of the Chesapeake Bay crashing on our pier which mere minutes before had been calm and inviting.
This recipe is based on my grandmother's crab soup and ideal any time of day. It's quite good spooned over rice, pasta, chicken, vegetables, or simply served in a bowl with a few crackers.
If you love crab soup, consider doubling this batch and freezing half: if properly stored, it will last up to 6 months. To serve, thaw the soup overnight in the refrigerator and reheat it on medium-low.
Creamy Crab Soup
Makes 4 servings
4 tablespoons unsalted butter
1 medium onion, minced
2 cup diced tomatoes (with liquid)
1 cups canned diced potatoes
4 cups vegetable broth
1 cup heavy cream
½ pound CrabPlace.com Backfin Crab Meat (click here to buy
crab meat
)
¼ pound CrabPlace.com Claw meat (click here to buy
claw meat
)
Salt and freshly ground black pepper Pinch of:
Nutmeg to make it more elegant or
CrabPlace.com Seafood seasoning to make it more rustic (click here to buy our
seafood seasoning
)
Melt 2 tablespoons of the butter in a large pot over medium heat. Add the onion. Cook until soften, about 7 minutes, stirring every so often. Add in the tomatoes, potatoes, broth, and cream, and simmer slowly for 15 minutes.
Transfer the soup and the crabmeat to a standing blender and puree it thoroughly. (Be very careful when blending hot liquids in a standing blender—do not fill the blender more than halfway, and cover the lid with a towel. The heat will push the lid off and you'll be wearing crab soup instead of enjoying it.)
Return the soup to the pot and the remaining butter. Boil it for 10 minutes. Taste for salt and pepper, and add a pinch of nutmeg or CrabPlace.com Seafood Seasoning. Serve immediately with a few crackers.
Don't feel like cooking today? We'll do it for you! Click here to buy our
seafood soup
!