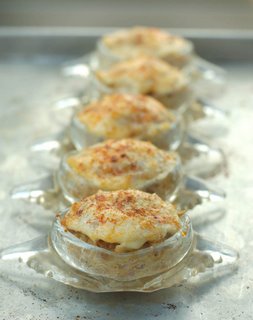 I have fond memories of Crab Imperial because it reminds me of my grandfather Calvin. He would save the hard crab shells after picking and instruct me to clean them because my fingers were small and could do the best job.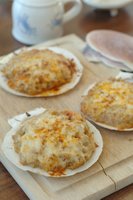 The crab imperial stuffing is baked and can be served in the actual crab shell, scallop shell, or glass crab shells which makes this dish the perfect introduction to crab: it's delicious and visually memorable. My grandmother Edna would spread mayonnaise over the crab imperial before baking. As the mayo heats up in the oven, it turns golden brown.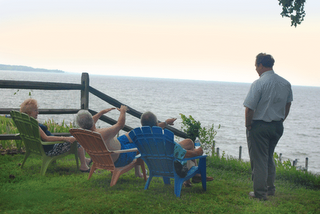 After the meal, the family would gather to tell stories and watch the sun set on the Bay...
Crab Imperial
Makes 4 servings
½ cup bread crumbs
2 tablespoons unsalted butter
2 tablespoons heavy cream
1 large egg, beaten
1 teaspoon CrabPlace.com Mild Seafood Seasoning (
click here
to purchase)
2 teaspoons Worcestershire sauce
1 cup mayonnaise
1 pound backfin crabmeat (
click here
to purchase)
4 crab shells or molds, cleaned and dried
Paprika
Preheat the oven to 350 degrees. In a large bowl combine the bread crumbs, butter, cream, egg, seafood seasoning, Worcestershire, and ½ cup of the mayonnaise. Mix well.
Gently fold in the crabmeat and form the mixture into 4 parts. Avoid over-mixing. Lay the crab shells or molds on a sheet pan. Stuff each shell with a mound of crabmeat, being careful not to over pack.
Spread the remaining ½ cup of mayonnaise over the crab mounds until it is completely covered. Sprinkle generously with paprika.
Bake for 20 minutes, or until the tops are golden brown. Serve immediately.