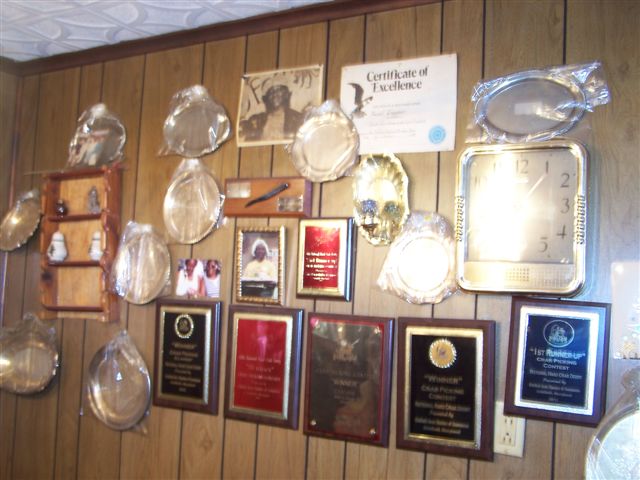 Hey, all you crab lovers! Here's a question for you: Who is the World Champion Crabmeat Picker of all time? None other than Crisfield's own, "Hurricane" Hazel Cropper. Hazel, who now picks crabs part-time for CrabPlace.com, has won the Crab Picking Contest at the National Hard Crab Derby more times than any other competitor since the contest started on Labor Day weekend in 1963. She has won eight years in a row, plus five more times, for a total of thirteen wins. Her personal record was picking 4.9 pounds of crabmeat in 15 minutes in 1991!
Born and raised in Crisfield, Maryland, known as The Crab Capital of the World, Hazel started picking crabs in 1947 at the age of nine. Taught by her grandmother, Meinne Bishop, picking crabs was a family affair, and she joined in with her sister, her aunts, and many other family members. In 1961, Hazel started work at Byrd's Seafood in Crisfield picking crabs, and continued on there for thirty years. "
We were just like one big family,
" she said. "
Every day at 9:00 AM, we'd stop work and sing The Lord's Prayer. While we worked, we'd laugh and talk, but we kept on picking.
" In fact, Hazel believes in giving a good day's work for a good day's wages. "
Some people duck work, but I dive right in,
" she said with a smile. In fact, she worked two jobs for many years, picking crabs at Byrd's during the day, and then making corn fritters and onion rings at Mrs. Paul's Kitchen at night until 1991 when Mrs. Paul's closed. She entered her first crab picking contest in 1989 and won, and she's been winning and winning ever since.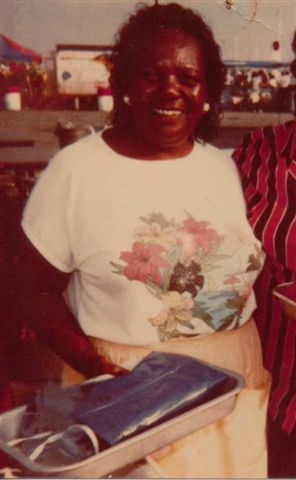 "
There were others who picked crabs fast when the crab picking contest began, people like Bernice Banks, Carpathia Miles, and Grace Ward. When I win, I honor them as well. I like honoring them as well as myself. And I feel good to still carry on…
" Hazel is also grateful for the healing of a hand injury she suffered while cutting soft crabs. It left her unable to compete in the Crab Derby crab picking contests from 2001 until 2007, when she returned and garnered her 11th win. She's racked up three more wins since then.
Hazel said the secret to picking crabs fast is based on how you learn from the beginning. She had a sister that was fast, and Hazel used to watch her. She was taught to pull the claws off by hand, and then pull off the back. Next she would take out the belly and the eggs, cut off the legs, and skim the crab knife across the top, pulling the meat out with her knife. She does these processes over a trash can, so the shell can fall into the trash, not into the meat. Hazel is known not only for her speed, but also for picking the crab clean while leaving little or no shell in the crabmeat she picks. Although some places pick crabmeat by machine, Hazel has a strong opinion about that: "
The human hand is still the best tool for picking crabs,
" she said.
Winning the crab picking contests has gained her a certain amount of celebrity and the opportunity to travel and display her talent. For example, she has given demonstrations at the Baltimore Aquarium and at Sunfest in Ocean City, Maryland. She also traveled to Pittsburgh, Pennsylvania to a food emporium there for several years, where she taught adults and school children about Maryland crabs and how to pick them.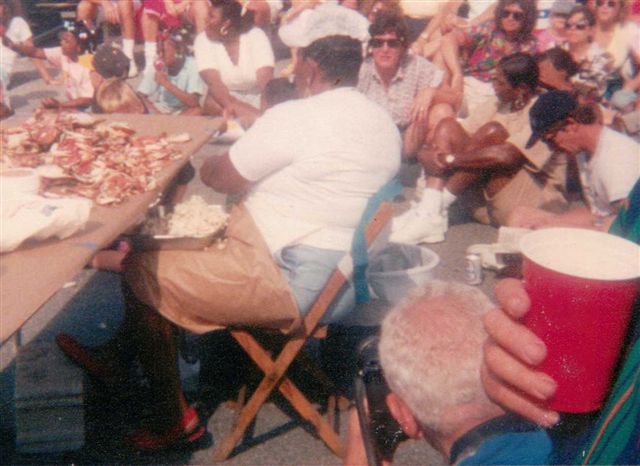 "
I like what I do,
" she said proudly. "
It is God who gives us gifts. I thank Him for the gift I have been given, and each time I win, I acknowledge Him. I enjoy demonstrating my way of life, and also I am able to shed light on Crisfield, the town I hail from. I feel somewhat blessed to be able to do that.
" And Crisfield is blessed to have her. We are proud of her accomplishments and, most of all, her kind and generous spirit. May her legacy live on long after she's gone. And meanwhile, stop by and say hello to Hazel at The Crab Place in Crisfield. If you're lucky, she'll show you a thing or two about picking crabs!
Labels: crab derby, crab picking, crabs, Crisfield, Hazel Cropper, Hurricane Hazel, Maryland, world champion