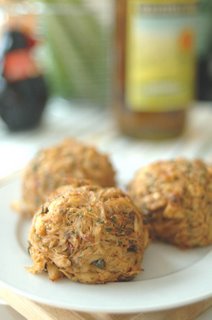 Yes, you read the title correctly...cheese and crabmeat are delicious together and a huge hit in my house.
Now some believe cheese has no right on crabmeat, but in my opinion cheese and crab are a match made in heaven. I mean, crabmeat already has a nice delicate buttery flavor and the cheese compliments it perfectly.
There are a couple ways to add cheese to crabmeat, and they are:
- adding grated cheese on top of pre-made crab cakes and then baking in the oven until piping hot and golden brown
- adding fresh shredded cheese or powdered cheese to crabmeat when making crab cakes
- adding shredded cheese to crabmeat when making crab dip
You get the idea...
My favorite cheese and crabmeat combo right now is adding powdered cheese to crabmeat when making crab cakes. Powered cheese doesn't burn and adds lots of flavor. Powered cheese can be found in most grocery stores or speciality markets. If you cannot find powered cheese, shredded works just fine.
Cheesy Crab Cakes
Makes 2 whopping Servings
½ pound blue crab back-fin or lump crabmeat, picked over for shells and cartilage
1 large egg, beaten
2 tablespoons mayonnaise
¼ cup powdered cheese, such as cheddar or parmesan
1 tablespoon finely chopped pimientos
4 crumbled no-salt saltine crackers (2 to go inside the cake, 2 to coat it)
½ teaspoon kosher salt
1 teaspoons seafood seasoning
1 tablespoon finely chopped parsley
¼ cup vegetable oil, for frying
¼ cup prepared tartar sauce, for serving
In a medium bowl, combine the egg, mayonnaise, powdered cheese, pimiento, 2 of the crumbled crackers, salt, seafood seasoning, and parsley and mix well. Gently fold in the crabmeat and form into 2 equal patties. Avoid overmixing. The patties will be fairly wet. Gently coat with the remaining 2 crumbled crackers on both sides.
Choose a skillet large enough to hold all the crab cakes. Coat the skillet with the vegetable oil and place it over medium-high heat. Fry the crab cakes until golden brown, about 2 minutes per side. Gently turn with a thin metal spatula. Serve immediately with tartar sauce for dipping!