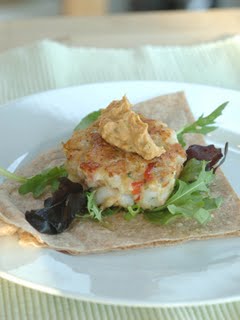 Scallop cakes or 'scallop burgers' are very delicate and should only be flipped once and with great care. If they should fall apart in the pan, simply push the ingredients back together. Scallop cakes can also be baked and instructions are outlined below. If you like this recipe, you can make cakes with just about any seafood.


Scallop Cakes with Hummus
Makes 4 servings
for the hummus:
½ cup your favorite hummus
1 tablespoon fresh parsley leaves, finely chopped
1 pinch chili powder, to your likening
For the scallop cake:
2 tablespoons olive oil
2 tablespoon Shallots, finely chopped
12 ounces Scallops
1 teaspoon minced Ginger (store-bought)
1 teaspoon Garlic paste
1 teaspoon finely chopped fresh Chives Leaves
¼ cup crusted oyster crackers
1 egg
Optional: 4 burger buns, toasted or a wrap
1 handful of greens, divided among the 4 burgers
Prepare the hummus. In a medium bowl combine the hummus, parsley, and chili powder and mix until well combined. Set aside.
Prepare the scallop cake. In a large sauté pan over medium heat slick the pan with 1 tablespoon of olive oil. Sauté the shallots and for 7 minutes or until they soften. When the shallots are done, scrape them into a food processor. Wipe down the pan and set it back on the stove. Add the scallops, ginger, garlic, chives, oyster crackers, and egg into the food processor and pulse until a paste is formed.
When the scallop mixture starts to come together, create 4 equal burgers and fry them in 1 tablespoon of olive oil in the pan over medium low heat. Cook the burgers for 4 minutes with a lid, flipping half way through.
The burgers are done when the scallops are opaque and a golden crust is formed. Served on a toasted bun and a handful of greens or tucked in a wrap. Include a dollop of hummus.
To bake the scallop cakes instead of frying preheat the oven to 350F and bake for 20 minutes or until golden brown.