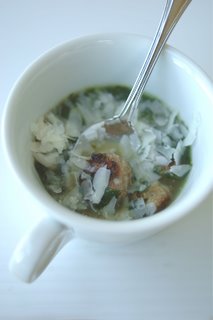 Coastal Italian Wedding Soup really stretches the definition of traditional Italian Wedding soup by using crab balls in place of meatballs. This soup only requires minimal preparation making this a perfect hot meal when time is of the essence.
Besides delicious and easy, this soup pound for pound on taste and originality, has tremendous value. If you are watching your budget but still want something special, consider this recipe as a wonderful entree or appetizer for just about any occasion.
Here, I suggest that you bake the crab balls, however, they could certainly be fried if that's your preference. I also recommend that the crab balls are placed in the soup at the last minute where they will slowly dissolve into the liquid as they soften.
Coastal Italian Wedding Soup with crab balls
Serves 6
6 2-ounce CrabPlace crab balls
1 tablespoon melted unsalted butter
4 cups chicken broth
2 cups spinach, chopped
1/4 cup grated Pecorino Romano cheese
Preheat the oven to 350F.
To prepare the crab balls, split the 2 ounce balls in half to form into about 12 mini-meatballs, a little smaller than a golf ball. Place the crab balls on a cookie sheet and brush them with butter. Bake the crab balls in the oven for about 15 minutes or until golden brown. Remove the crab balls from the oven and set aside to let them cool slightly.
Meanwhile, combine the chicken broth and spinach in a heavy pot over medium-high heat and cook until the spinach has wilted, about 10 minutes. To serve, carefully spoon the soup into 6 shallow bowls and add in crab balls. Sprinkle them with romano cheese and serve immediately.