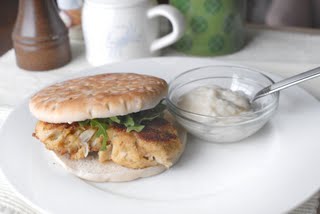 When it comes to a classic dish like Crab Cakes, where do you stand? Do you prefer Old Fashion or Nouveau? I am on a mission to gather data and would love your input!

First, let's confirm our definitions.
For me, an
old fashion crab cake
is one that contains Old Bay (or J.O.), egg, crushed oyster crackers, mayo, parsley, and perhaps a dash of onion powder, or even a drop of Worcestershire sauce. Served with a side of tartar sauce, you can find this in crab shanties and houses in and around the Chesapeake Bay. It's not fancy and even served on the go tucked in between two slices of bread.
Now contrast that to what I would consider a
Nouveau crab cake
, which is a standard appetizer in most fancy restaurants. This crab cake generally has a long list of ingredients, items like lemon zest, infused mayo, capers, panko bread crumbs, shallots, diced celery, truffle oil to name a few and has a sophisticated flavor. It's typically served on a plate with an upscale chef-inspired sauce.
Second, let's vote.
I vote for old fashion crab cakes. It brings back fond memories of living summers on the Bay as a kid. I can picture my grandmother Edna in the kitchen whipping up a batch with very little fan fare while shouting her wisdom, "don't mess with it too much". And though I do believe every great classic dish deserves to be reinvented from time to time, crab cakes are just something I prefer tried and true.
Third, now it is your turn.
How do you vote? And please include a story or two about why.